Is there a more imposing nickname than "Thor"? The Marvel films have famously portrayed the Norse god of thunder and lightning as a viking of old, towering over everyone with his rippling muscles and golden locks.
It's not hard to understand how Mets starting pitcher Noah Syndergaard was dubbed "Thor." Standing 6'6" and 240 pounds, he dwarfs hitters on a nightly basis. His massive frame, flowing blond hair, and Scandinavian heritage make the comparison obvious.
Syndergaard was a highly touted prospect out of high school. In fact, the Toronto Blue Jays traded the Mansfield, Texas native to the Mets as the feature part of a package deal to acquire aging reigning Cy Young winner R.A. Dickey (I'm sure the Blue Jays management groans every time this trade is mentioned). But despite his top-prospect status, almost no one expected Syndergaard to achieve such an elite level of success so quickly.
It would be difficult to overstate the unique combination of talent and potential that the 23-year-old possesses. He has the once-in-a-generation physical tools and immense talent to become the most dominant pitcher in the game; and he's proving in just his second season in the major leagues that he may soon swipe that title from right under Clayton Kershaw's nose.
You might suspect that a 6'6", 240 pound pitcher could throw some heat; if so, you would be correct. But his velocity is truly otherworldly (Asgardian, you might say).
After just over a season in The Show, Syndergaard already has already developed five different pitches. He throws a four-seam fastball, sinking fastball, curveball, changeup, and a newly developed slider. The frequency with which he has thrown each pitch during the current 2016 season can be seen in the diagram below, courtesy of Brooks Baseball.
After throwing his sinking fastball at a whopping average of 97.8 miles per hour during the 2015 season, his first season in the MLB, Syndergaard somehow increased the average velocity of that pitch to 98.43 miles per hour this season, the fastest average speed of any pitch thrown by any starting pitcher in the major leagues. Baseball Savant lists 90 total pitches thrown this season at velocities of 100 miles per hour or greater. 63 of these 90 pitches were thrown by Noah Syndergaard, which amounts to 10% of his total pitches.
Since he throws about 50% fastballs (four-seam and sinkers), about one in five of his fastballs break the 100 mile per hour barrier. That is an unbelievable number for any pitcher, much less a starting pitcher expected to throw 100 pitches a game for the entire season. To break this down in a less statistical way, to say that Syndergaard throws "heat" would be a massive understatement.
"When you used to play video games as a kid, if you build the player that you want to build and put all the abilities up to like max 10, he's that guy that you build in the video games — his presence physically, the stuff, the command. He throws 100 mph. If he's not throwing 100, and he's throwing 96 or 97, he can beat you with hitting his spots and his secondary pitches."

– David Wright, Mets Third Baseman
But Thor isn't just a fastball chucker. The fact that only about 50% of his pitches are fastballs indicates his confidence in his curveball, changeup, and slider. While his changeup and curveball are both effective pitches, Syndergaard's recently-developed slider may be the nastiest pitch in baseball. Showcasing an average velocity of more than 92 miles per hour and repeatedly topping the mind-twisting 95 mile per hour mark, FanGraphs rates Syndergaard's slider as the fastest in the MLB by a large margin. Add some late-downward movement to the equation and the pitch is virtually unhittable, as evidenced by the ridiculous 34% swinging strike rate his slider has generated this season. And keep in mind this is a new pitch for him! After using it sparingly during the 2015 postseason, Syndergaard worked hard over the offseason and spring training to add this deadly weapon to his arsenal, already producing many swings and misses like the one below.
It's easy to see how a hitter wouldn't be able to lay off the pitch, especially on a two-strike count. As illustrated by the slowed-down video of another nasty slider he threw against the Marlins, the pitch starts over the plate and actually looks like a fastball to the hitter as it leaves his hand.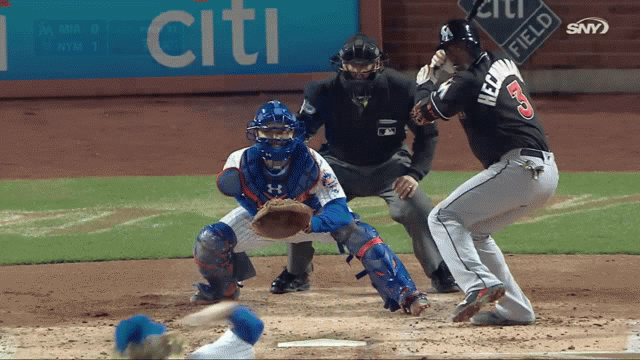 Due to its velocity, it continues to mimic a fastball until well after the hitter has decided whether or not to swing. When the pitch drops suddenly as it nears the plate, the hitter has already committed to swinging. Expect to see many one-handed follow throughs and failed check-swings from baffled batters when Noah Syndergaard takes the mound.
Syndergaard's impressive ability to paint the corners of the plate with each of his pitches has contributed to some remarkable stats during the current 2016 MLB season. His 2016 statistics are shown in the table below.
Syndergaard is ranked right around the top five, among qualified starting pitchers, in almost all of these stats. While each statistic is impressive when considered on its own, his collective body of work shows how dominant he has been this year.
"Right now, he stands alone with his stuff. Nobody sits at 99 mph and throws a slider 93. Nobody. It's just a matter of time before you see a perfect game, a no-hitter or a 17-strikeout game."
It's no wonder that nearly all of Syndergaard's stats rank right around the top of qualified starting pitching. A bit more investigation uncovers the sparse contact opposing batters have been able to muster against Thor so far this season. A ball's exit velocity off a batter's bat is the best indicator of contact being made by the batter. Syndergaard has allowed the least amount of solid contact to opposing batters this season, even on pitches down the heart of the plate. Compared to the other top starting pitchers shown below, Syndergaard's exit velocity profile is among the very best in the game. Simply put, very few have been able to muster anything more than soft contact against the Mets ace, evidenced by the eight measly extra base hits allowed through his first seven starts. Bloop singles and ground balls through the infield account for the vast majority of Syndergaard's hits allowed this season.
Though everything seems to be lining up for Syndergaard to win multiple National League Cy Young awards in the near future, a few worries cast a small shadow over the certainty of his bright future. The most commonly cited worry is whether he can stop the avalanche of baserunners from swiping extra bases off him.
Much has been made over Syndergaard's inability to hold base runners so far this season, and for good reason. His consistently slow delivery to the plate and indifference towards base runners have contributed to Syndergaard's league high 14 stolen bases allowed, six more than the second starting pitcher on that list, Mat Latos. Opposing baserunners have picked up on this glaring weakness and swiped bag after bag from him.
Syndergaard does not even look the base runner (Billy Hamilton!!!) back to the bag and allows him to take a massive lead before delivering his pitch, giving his catcher no chance to throw out the speedy outfielder.
Hamilton went on to steal third on the very next pitch before scoring on a sacrifice fly. Had Syndergaard kept the base runner in check in either instance, the Reds likely would not have scored during the inning. Allowing runs directly from stolen bases has been a recurring theme for Syndergaard during the 2016 season as teams realize their only chance to score off the dominant pitcher is to swipe free bases whenever they manage to reach base.
However, Syndergaard quickly realized the need to limit opposing running games and began working with Mets pitching coaches and starting pitcher Jacob deGrom to find a solution. They focused on mixing up Syndergaard's delivery time from the stretch in order to disrupt the timing of base runners and prevent them from securing a quality jump on his release.
The change seems to have helped as Syndergaard showed notable improvement with runners on base Wednesday night against the Dodgers. Despite allowing six base runners, none of them were able to steal a base. He paid much closer attention to the opposing running game, getting Yasiel Puig to ground into a double play after holding Joc Pederson to a short lead with multiple throws to first and varied deliveries from the stretch. If the Mets star righty can continue to improve on this weakness, the other MLB teams may be S.O.L. in the runs scored department.
The second, more long-term concern is whether Syndergaard can stay healthy throughout a long career. A starting pitcher with the velocity that Syndergaard possesses is virtually unprecedented in Major League Baseball. Despite his massive build and strength (he can squat 445 pounds), throwing with so much force will take its toll on his body, specifically his throwing shoulder and elbow. Typically, any pitcher that regularly cracks 100 with his fastball only pitches in relief situations, as is the case with both Aroldis Chapman and Arquimedes Caminero, typically regarded as the two other pitchers with the quickest fastballs. Due to their roles as inning-per-night pitchers, flame-throwing relievers are less prone to injuries because they simply do not throw as many pitches.
But Syndergaard breaks the mold. He is a starting pitcher, expected to pitch through the sixth inning in each start, that throws harder than almost any late-inning relief pitcher in the MLB. At face value he looks like a ticking time bomb for shoulder injuries, and experts have expressed a similar worry. Sports Illustrated writer Tom Verducci stated, "He is either a threat to himself—pushing the limits of musculoskeletal integrity—or he is a once-in-a-generation physical marvel."
At this point in his career it is almost impossible to distinguish where Noah Syndergaard falls. There is simply no one to compare him to. His size and strength alone do not protect him from injury, as the main injury worry for a flamethrower comes from joints or ligaments that can struggle to hold up under such power. Additionally, the brand of slider Syndergaard throws is especially hard on the elbow due to its outlandish velocity and the amount of torque created as it leaves his hand.  
But Thor is not doomed to face an injury-plagued major league career solely due to his impressive velocity. No pitcher, except for possibly Cubs starter Jake Arrieta, has more finely tuned their body to stay healthy while throwing heat. Syndergaard has long been a bit of an iron addict, but this past offseason he kicked it up a notch in the gym. In addition to the pilates he performs to strengthen his joints and tendons, over the 80-day offseason he dedicated himself to four brutal workouts each week in order to add 16 pounds of raw muscle to his already muscular frame. He's doing everything he can to avoid injuries, which should allow him to continue dominating hitters with his velocity for many seasons to come.
His throwing motion also passes the eye test. Just take a look at this 101 mile per hour fastball.
It sure doesn't look like he is putting every ounce of strength he has into the pitch. His mechanics are compact, he stays balanced, and his mechanics are no different from any other fastball. Fellow major league pitcher Justin Verlander seems to agree, saying, "When I see Syndergaard throw I see the same thing. I see easy velocity. I like his arm swing—I'm big on studying guys' arm swings—and his mechanics look clean. He's a big guy with long levers and quick-twitch muscles. It doesn't look like he's putting all of his effort into 98." I'm no expert, but Syndergaard does not look like a danger unto himself when he takes the mound. The unbelievable velocity seems to stem naturally from his massive frame and quality mechanics.
"Nobody is even close to Syndergaard. His fastball beats all other qualified starters by 1.3 mph and his slider beats all others by a whopping 3.3 mph. . . Syndergaard is the modern pitching equivalent of a 1961–62 Wilt Chamberlain, a '68 Bob Beamon, a 2000 Tiger Woods and an '01 Barry Bonds."

– Tom Verducci, Sports Illustrated
As I sit here wrapping up this article on Wednesday night while watching Noah Syndergaard paint an eight-inning masterpiece against the Los Angeles Dodgers, I find myself wondering if he could still pull off anything that would surprise me. On cue, with his first swing against talented Dodgers pitcher Kenta Maeda, he blasted a towering home run to right-center field to open the scoring for the Mets. But pitchers get lucky sometimes, right? Just ask Bartolo Colón, who waited 42 long years for his first homer.
However, to avoid any doubt about his abilities, in his very next at-bat he dropped the hammer, or in this case the Mjolnir, again, taking Maeda deep a second time with an effortless 407-foot blast to straight-away center field. And I mean effortless; as you can see below, these weren't Bartolo Colón swing-so-hard-your-helmet-falls-off swings. These were the swings of an athlete, driving in all four of his team's runs to earn himself the win.
The rise of pitchers like Syndergaard signals a change in the sport of baseball. As likeable as 42 year-old beer-gut sporting fellow Mets starting pitcher Bartolo Colón may be, we will continue to see pitchers like Colón being replaced with athletic beasts like Noah Syndergaard and Jake Arrieta as the quality of training and research surrounding pitching continues to improve.
Vin Scully, the legendary Dodgers announcer, exclaimed after Syndergaard's second home run Wednesday night, "I should say, he's Thor!"
He sure is, Vin; and that real-life superhero is still discovering his remarkable powers. His best is surely still to come, and that's a scary thought.